Having your carpets professionally cleaned is a wonderful feeling, but keeping them clean can be somewhat difficult.
There are certain things you can do to keep your carpet looking like new for longer in between professional cleanings. Her we offer some recommendations.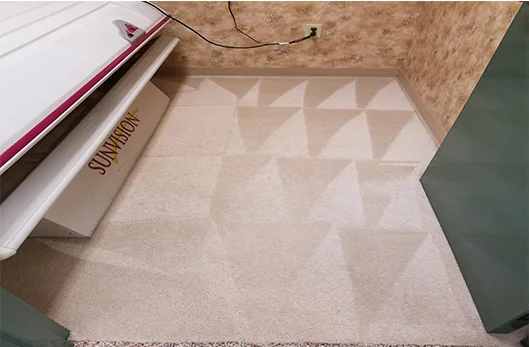 Leave the Dirt Outside
Dirt tracked in from the outside is exactly what it sounds like. We all have some sort of doormat, but that is not enough. Removing your shoes upon entering your home will help keep the dirt down inside the home. Walking around barefoot on your carpets is not a great idea either because the oils from your skin can get trapped inside the fibers.
Regular Vacuuming
Regular vacuuming can help to keep down the amount of dirt and dust in the carpet. It also helps to lift them out and can keep it from getting trampled down into the fibers. Carpets are more resistant to regular vacuuming than older carpets.
Clean Spills Right Away
Cleaning up spills as soon as possible helps to keep them from settling in. Blotting is the best way to try to clean them up. Rubbing will only push the stain further down into the fibers of the carpet and make it harder to get out in the long run. Start by only using water or mild detergents. Harsh chemicals can actually cause more damage to the fibers.
A Professional Carpet Cleaning Company in Lincoln
Nebraskas Best Carpet Cleaning can help you to take care of your carpets and make them last a longer time. We are able to answer any questions you have about keeping them clean. Regular cleaning can help keep the overall look of your home fresh, but a professional cleaning can breathe new life into your carpets.
Licensed and insured, we take pride in all of the work we do. Call or contact us for any question you have about carpet maintenance or if you need a quote for a professional carpet cleaning. With over 15 years in the business, we can help you keep your carpets like the day they were iinstalled.