5 ROOMS FOR $160 |

 

3 ROOMS FOR $120 |

 

2 ROOMS FOR $100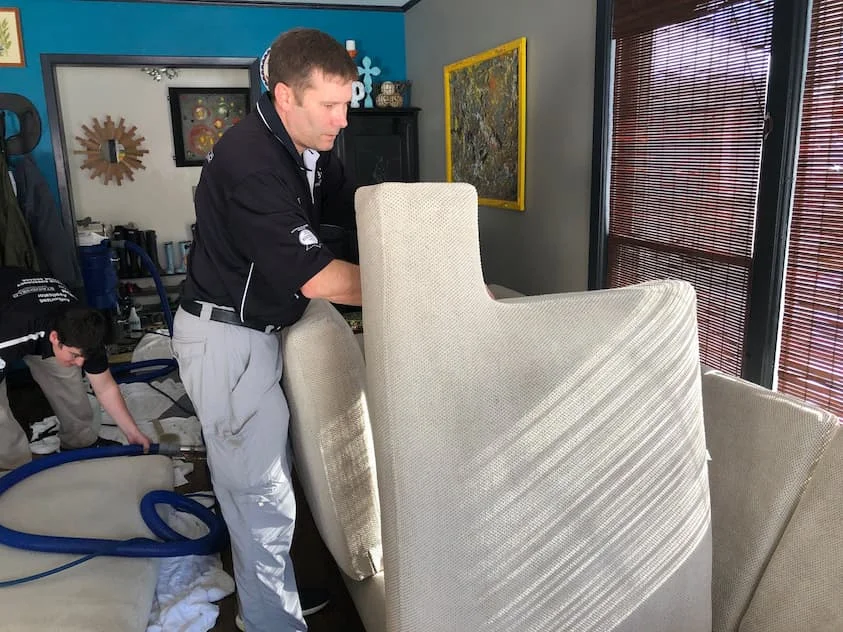 Professional Upholstery Cleaning in Lincoln
Your furniture's upholstery can hold a wider variety of dirt and soil than the carpet in your home. This is mostly due to the contact that it has with humans and animals. It can also be taken into effect that it is not cleaned on a regular basis.
Dirt and Dust
Because of the fact that our skin comes into contact with the fabric for extended periods of time, it is easier for it collect perspiration and oils from our skin. This also holds true when our pets come and lay down next to us on our furniture, except they also leave dander behind.
Allergens
The dander from our pets can cause allergies. Everyone knows this. A lot of time it is not thought about the dust that we con not see. Different types of fabric require different measures to keep them free of allergens.
What Makes Cleaning Upholstery Different
Think of your furniture's upholstery like your clothes, except you just can't throw it in the washing machine. What we mean is that different materials need different treatments. If not cleaned with the correct detergents and processes, major damage can occur.
Deep Stains
Sofas, armchairs, dining room chairs and every other piece of furniture in your home gets stained sooner or later. Just like you would treat a stain on your clothes, you need to know what to use and how to do it in order not to damage the furniture.
Eco-friendly
Eco-friendly detergents have come a long way over the past years. They were thought to be weaker than chemical, but that is not so any more. Most of them can now clean better than the chemicals of their counterpart. In addition, there is no residue or odors left behind after the work is completed.
Nebraska's Best Carpet Cleaning's upholstery cleaning service will get your furniture back to looking bright and new again. Locally owned and operated for over 23 years, we are able to give all of our clients the attention and satisfaction on every job we do. Call or contact us for a free consultation or quote. Let us get your furniture back to how it looked when you first acquired it.
Professional Carpet Ceaning
Get in touch and get a FREE Quote

We had NBCC come out prior to listing our home. We had some dog smells get pulled out that we didn't even know were there. We called back and they went above and beyond to make sure our carpets were clean and smelled fantastic for the next owners. I would (and will) use them again in a heartbeat. I love my clean and scented rugs.
Kyle and his partner showed up on time and were very friendly. They worked quickly and efficiently. Thanks NBCC!
Matt is so easy to work with…amazing customer service, shows up on time, very friendly and does a fantastic job on my floors. They look brand new when he's finished! I only use Nebraska's Best Carpet Cleaning and have been a repeat customer for many years.
We have been using Nebraska"s Best Carpet Cleaning for years. Matt shows up on time, does a wonderful job. In the past we have had pets that have left their mark, but Matt does a wonderful job removing the stains. They are always courteous and clean up after themselves. Nebraska Best Carpet Cleaning is the best and will have our business in the future.
This is the best carpet cleaning company in Lincoln, NE. Matt and his team are professional, on-time, and willing to go the extra mile to get the job done right. I highly recommend them, and would use them again.
Matt and Kyle came and cleaned my dingy white carpets and they look brand new!!!! Super friendly, worked around my (many) animals. I will gladly recommend them!
Near miraculous result. On-time, professional, friendly, knowledgeable, did what seemed to be impossible. The house went from a lingering staleness to a remarkable freshness in a matter of 90 minutes. We had thought to replace the carpeting at great expense, but his skills saved us thousands of dollars, and the house smells clean.
Excellent customer service, timely response and scheduled appointment within 2 days of initial call. Service tech arrived at scheduled time to pick up and deliver my area rugs and was very professional and courteous. My rugs look and feel like new again! I have already recommended this business to friends.
Did a great job my apartment looked better then when i moved in.